LPG is the ideal fuel for a wide range of power generation applications, from small backup generators to large scale power plants. LPG is increasingly used in homes, businesses, hospitals, and for mobile generators to provide efficient, reliable and clean power. As governments are looking to replace polluting coal, diesel or heavy oil plants, LPG offers a cost-efficient alternative and low emissions alternative for areas that are not connected to the natural gas grid.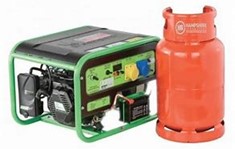 A PARTNER FOR RENEWABLE POWER
An LPG Power Plant can be combined with wind, solar, hydro or other renewable sources
LOCAL POWER
LPG power plants can be set up close to where energy is needed, thus avoiding energy loss over power lines. Virtually every KW/H produced is a KW/H used.
HIGH EFFICIENCY
LPG is easy to transport and store and burns very efficiently with a heating value about 10% higher than other liquid fossil fuels, and roughly equal to that of natural gas.
LPG: A PERFECT PARTNER FOR RENEWABLE ENERGY
LPG can provide Consistent, stable power base load regardless of weather conditions.
LPG does not degrade It is consistent and reliable. LPG can be used as a clean back-up energy.
LPG can deliver Modern, low emission power
LPG can back up commercial solar systems Which store solar-heated water with thermal efficiencies greater than 95%
Hybrid systems Are already attracting annual, global investment of more than $200 Billion and are commercially viable today
With hybrids Fuel volumes are lower and existing LPG infrastructure can often be used – natural Gas/LNG systems need infrastructure to be developed, adding to cost.